Pirate Magic Show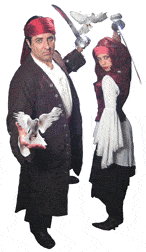 Ahoy,
Thank you for considering our pirate magic show for your event or party . Our shows run for 1 hour or less, we provide everything including microphones, PA system, tables and magic. We can present the show in English and/or Spanish, we're bilingual.
We work with the Top Hollywood Pirate group and have worked at several Pirate events and festivals such as Shoreline Village Pirate Festival in Long Beach, CA and Ventura Harbor Pirate Days in Ventura, Ca. As well we have performed our Pirate Magic at countless private parties, schools, libraries, birthday parties and corporate events.
During the show we appear live doves, perform a levitation, have lots of audience participation and comedy. The show would be themed with pirate magic, pirate music and we are dressed and talk like pirates. We also came out on "America's Got Talent" Season 6.
We can also connect you with our friends that can supply your event with pirate props, additional pirates for photos, pirate decorations, pirate waiters, pirate bartenders, exotic animals such as monkeys and alligators. Look alike like Captain Jack Sparrow, Davy Jones, Captain Hook and many of our friends actually worked on Disney's" Pirates Of The Caribbean" movies.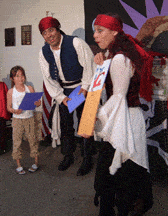 For school & library programs we incorporate the message to read books, the use the library resources, library card information, to an amazing magic show and we entertain everyone young and older. We use music, audience participation, contests, lots of magic, comedy and more in our show.
At County Fairs & Festivals we can perform large magic illusions that can be seen by thousands of people. We have performed at several County and State Fairs.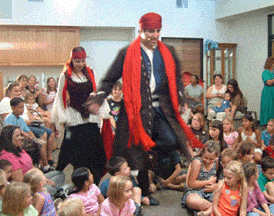 Show Features
Whip Cracking
Sword Fighting
Pirate Music
Talk Like a Pirate Lesson
Pirate Stories
Pirate History