Los Angeles Magician Video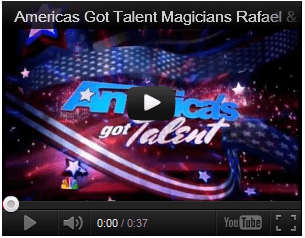 Rafael & Katia on Season 6 of America's Got Talent, they made the Top 100 out of 54,000 auditions.
Read more

→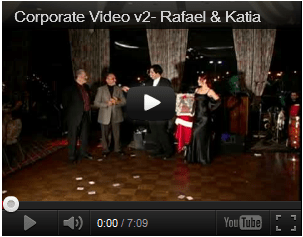 Information about our magic & illusion show for corporate events and Holiday parties.
Read more

→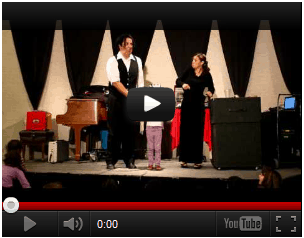 Information about our family shows and birthdays. Amazing magic and funny business. Filmed at the Beverly Hills Library.
Read more

→
For the past 10 years we have been the Top working magic act in Southern California. We have personally performed at over 250 shows each year. What is most important is sharing our magic to millions of people.- Rafael and Katia Learn more…
Themed Magic Shows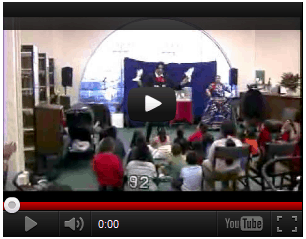 Mariachi magic show. Culture, music, magic, funny bits and illusions merge in this cultural show.
Read more

→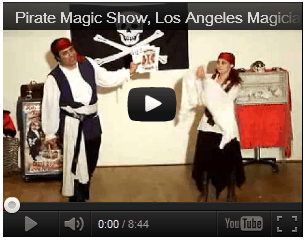 Pirate magic show. Sword fighting, magic and illusions, pirate bits and audience participation.
Read more

→
Why choose us?
Satisfaction Guranteed
Birthdays and Family Events
Library & School Programs
Stage Illusions
Adult / Corporate
20 Years of Experience
Insured
Over 40 TV Appearances
"Amazing Magic Shows That Will Make Your Event Unforgettable, Entertaining, And Fun! GUARANTEED"
We Guarantee, 100% Customer Satisfaction. If you can look us in the eyes and say that your guests, were not impressed by the magic show, then it will be FREE.
Dear Friend,
We understand your concern, with many magicians and entertainers in the market, how do you know what performer to choose? What can you do different this year that will be innovative and entertaining?
The Best Program I have seen in 20 Years"
Kay Pearlman
Children's Librarian- Duarte Library

Who could possibly do all this and fit into your budget?
"That program was amazing, you left us all speechless."
Mrs. Olivas
Principal- Our Lady Of Lourdes School
What programs stand out from the bunch, they are established, have been around for many years, are trusted around children and are professional?
"You both were magnificent! The children and staff were absolutely delighted to have you as guest performers."
Janice Johnson
L.A. County Department Of Children and Family Services
We are Rafael & Katia, professional magicians and presenters. We provide fun, interactive and entertaining shows.
We blend comedy, magic, lessons, role playing, with audience participation that creates hilarious situations and wild antics. Every program is tailored to your needs.
Every One Of Our Programs :
IS FULL OF AUDIENCE PARTICIPATION- Your guests will love participating and during our show we ask for helpers to assist in the magic and fun.
LOADED WITH AMAZING MAGIC- Your guests love magic and what better way to amaze but with mouth dropping magic and illusions.
A MULTI MEDIA EXPERIENCE- We provide a professional sound, microphones, lighting and music. So your guests can listen to every one of our words, see us and keep the program flowing and running smoothly.
IS LOVED BY STUDENTS- With thousand of shows under our belts we know what people love. We Guarantee it or the show is FREE.
TESTIMONIAL VIDEO:
Coming Sooon….
Everything sounds great…..Now What?
Simply pick up the phone and call us. Or email us. We can discuss your program in detail. You can ask ANY questions you have, In fact, I´d really appreciate you contacting us and letting us know what you think.
We are not going to try and "sell" you, so you can relax – no pressure – we are here to answer any questions and help make your event the best ever!
We look forward to speaking with you: (323) 269-5400
Magically yours,
Rafael & Katia
Magicians
The Magic of Rafael & Katia
P.S. I know you are very busy and we appreciate you taking the time to read this letter. We sincerely hope we can work together in the near future.
P.P.S. We are lucky enough to perform over 40 shows a month. Please take advantage of this advanced notice and call us soon, our calendar fills up rapidly.